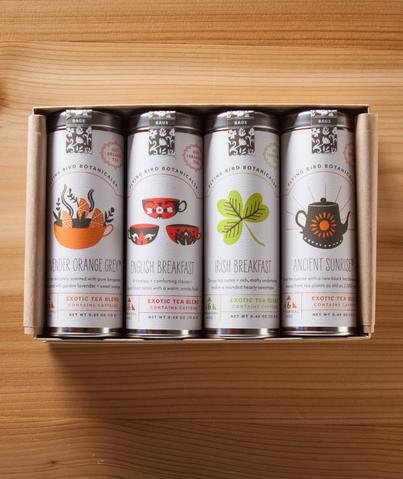 Organic Tea Gift Box: Good Morning
A sweet kraft box tied with a beautiful letterpressed hang tag encloses four tins of tea to greet the morning––each filled with six perfectly portioned biodegradable tea bags. A lovely selection for black tea lovers.
Box includes 4 tins (6 servings per tin). English Breakfast (classic black tea blend), Irish Breakfast (black tea with malty undertones), Ancient Sunrise (a special blend of rare black teas) and Lavender Orange Grey (classic bergamot scented tea with a lavender twist).

Contains caffeine.

At home in the Pacific Northwest, Flying Bird Botanicals works with over a dozen farms to source the highest quality, freshest herbs available while building meaningful relationships with local growers. Inspired by ancient herbal wisdom, their original tea blends are crafted to offer comfort and nourishment with every delicious sip.