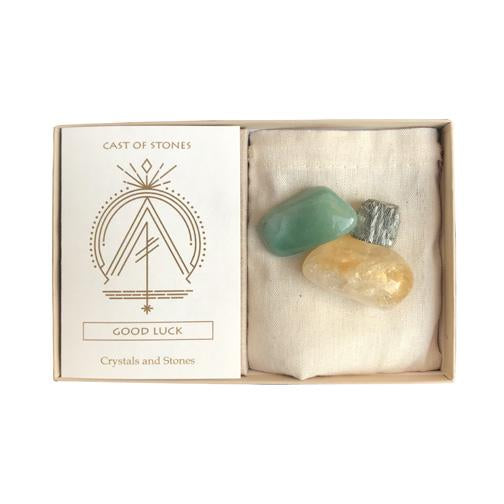 "I am aligned with the blessings of good fortune and achievement."
For thousands of years, ancient civilizations believed that the powers of crystals could release mental, physical and spiritual blockages and that each crystal has unique properties and energies to aid different conditions.
 Today people use crystals and stones in many ways including in jewelry, carrying them in a pocket, using them in meditation or simply placing them in their surroundings. 
-   Citrine is known as the success stone. It's bright energy lights up many aspects of those who wear it. It has energies of good fortune and good luck, though these may appear in unexpected ways. It is said it will assist you in manifesting success, reaching your goals, and achieving abundance in your life, particularly in business.
-   Green Aventurine is known as the stone of opportunity. It is thought to be the luckiest of all crystals, manifesting prosperity and wealth, and good for increasing favor in competitions and games of chance. Its winning energy makes it a great ally for boosting one's chances in any situation. It aligns conditions so "opportunity" is inevitable. It also releases old patterns, habits and disappointments so new growth can take place. It brings optimism and a zest for life.
 -   Pyrite is a symbol for money and good luck. Pyrite's energy is empowering to the spirit, encouraging one to overcome fears and take action. It's said to increase the will to accomplish any task one sets out to do, and can bring out confidence and make one become more dynamic.
+
3 polished natural stones with cotton pouch for storage and information pamphlet.