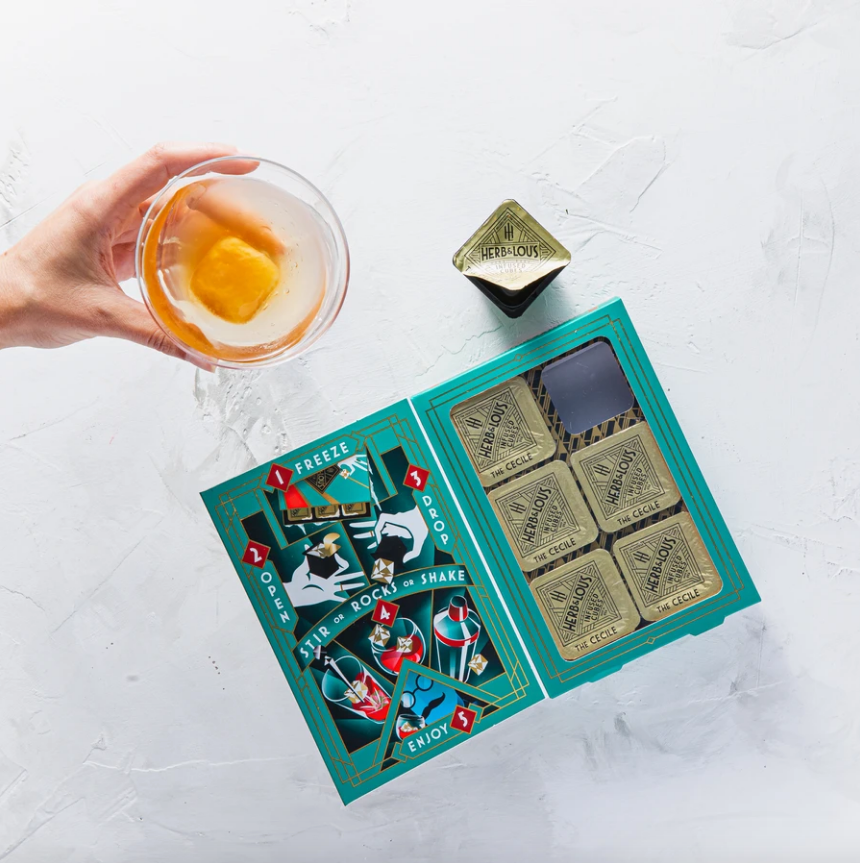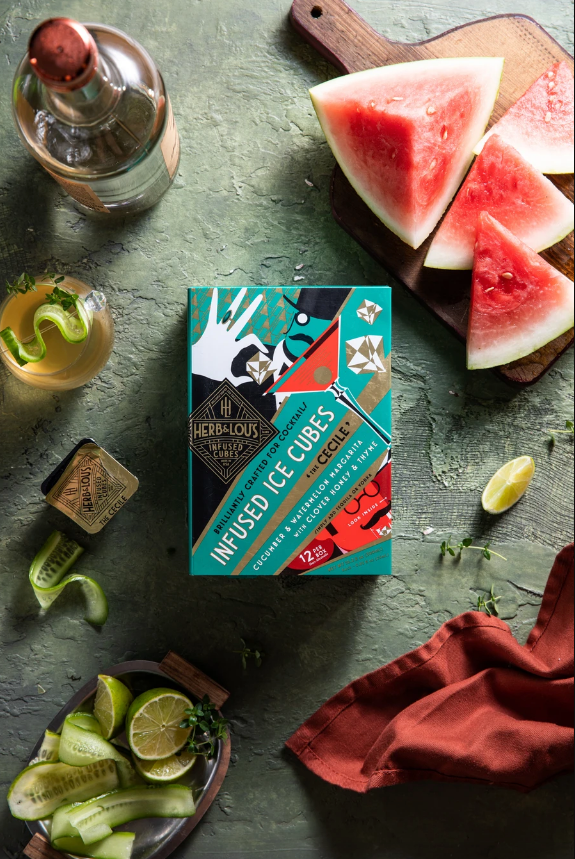 Herb + Lou's Cocktail Cubes: The Cecile
Herb + Lou's does your shopping, chopping and measuring for you - creating the world's easiest cocktail (or mocktail!). Drop one frozen cube into a shot of the spirit or soda of your choice to make your own perfectly crafted tipple.
THE CECILE is a re-imagined Margarita - created with tequila or vodka in mind.
The Cecile combines two of the world's oldest, most treasured flavors. Watermelon can be traced back to ancient Egypt, while there are records of wild cucumbers in India as early as 4,000 years ago. Watermelon and cucumber simply belong together, as the sweetness of the fruit is the perfect counterpoint to the crispness of the grassy green vegetable. Thyme and clover honey round out The Cecile with warm, flowery notes. Just add liquor, and you'll have a refreshing delight of a cocktail ready to enjoy. 

+
Step 1. Freeze a box of The Cecile.
Step 2. Drop a frozen cube into a glass filled with a shot (1.5 oz) of liquor or seltzer.
Step 3. Give your drink a shake or a stir, pop on a garnish if you wish, and enjoy your Cucumber + Watermelon Margarita with Clover Honey + Thyme.
Made in the U.S.A.
NET WT. 0.85 fl oz (25mL) per cube/ 12 cubes per box.
Ingredients: Filtered Water, Invert Sugar, Crystalline Fructose, Watermelon Juice Concentrate, Clover Honey, Natural Flavors (Oil of Thyme), Lactic Acid, Ascorbic Acid, Sodium Benzoate & Potassium Sorbate (as Preservatives).