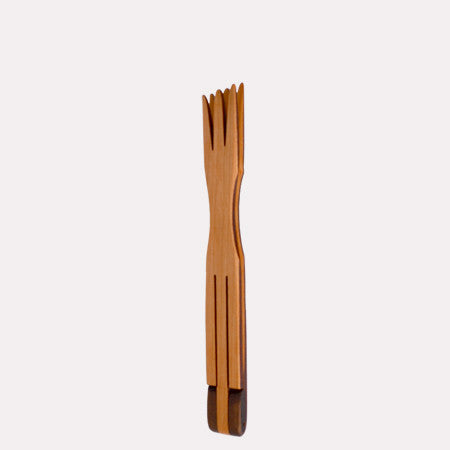 A mini version of Jonathan's original "inside-out-tongs." These are two forks connected with a hinge. They lay flat for storage, and when ready to use, flip them inside out and you've got a spring-action pair of tongs. These little guys are indispensable on the buffet table for hors d'oeurves, olives, sugar cubes, you name it. Also great for prising toast out of that darned contraption.
+

Approx. 8" long.
Hand wash.
All pieces in the collection are natural hardwood cherry is that is durable, smooth and handsome. It has a lovely grain that will darken with time. 
Jonathan's Spoons is a family operated studio in the woods of Kempton, Pennsylvannia where these elegant cherry wood utensils are conceived, designed and brought to life.